The LINE Connector (co-developed by Crescendo Lab and Treasure Data) was developed to upgrade two-way communication between your Customer Data Platform (Treasure Data CDP) and LINE CRM/MA Platform (MAAC).
What does the LINE Connector allow you to do?

Better Segmentation to Enhance Retargeting Strategies
Import user segments from Treasure Data CDP directly to MAAC. Deliver the most relevant messages on LINE to users listed in your Treasure Data CDP.
Keep Data in Sync to Create a Consistent Experience
When changes in member data are made in Treasure Data CDP, the change will be simultaneously updated in MAAC, and vice versa, helping you to avoid creating fragmented user experiences.
LINE Applications for a Better Customer Experience
Gain access to using MAAC's functions (such as Automated Customer Journey, Auto-reply Messages, AI Recommendations) on your users in Treasure Data CDP, and keep users engaged throughout their lifecycle with your LINE official account.
How to Build an Effective Marketing Campaign with the LINE Connector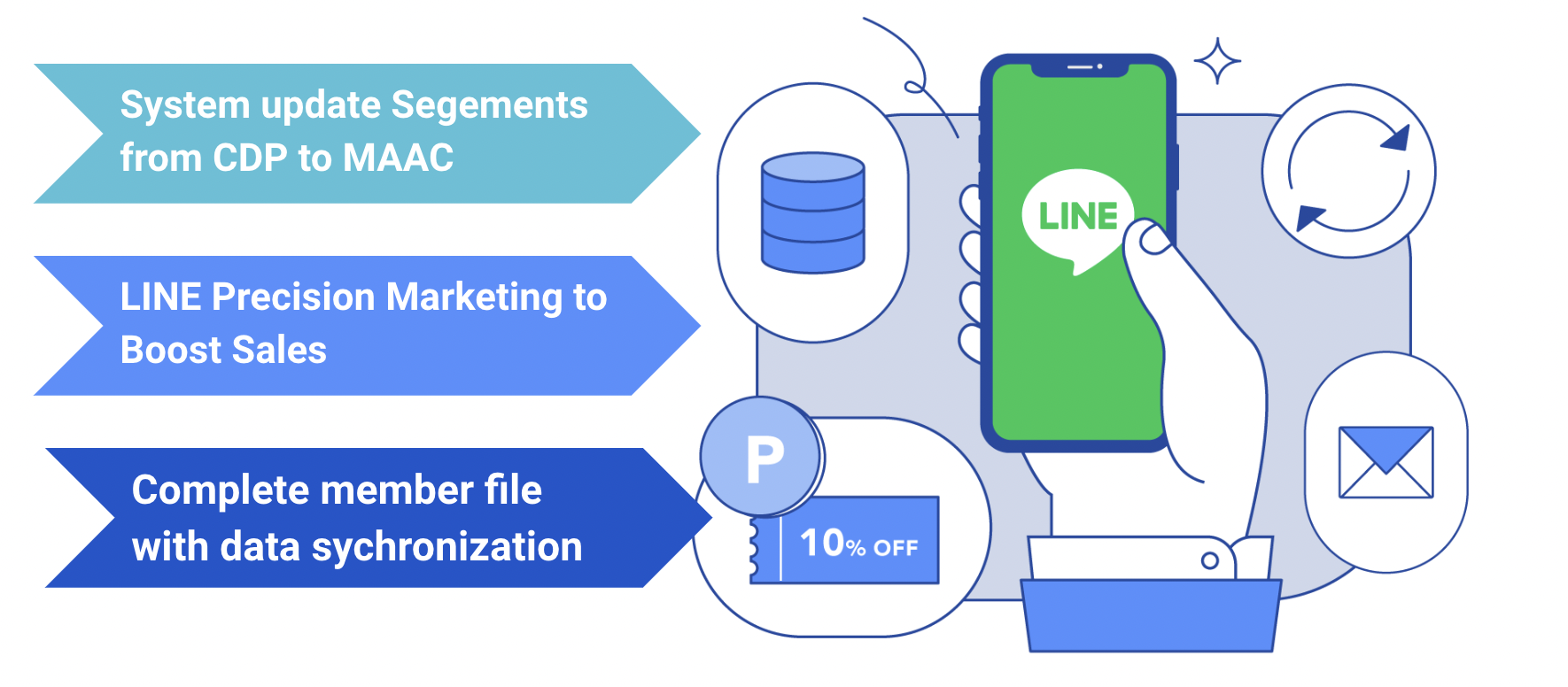 Step 1: Transfer User Segments from CDP to LINE
After building a segment such as "users interested in making a purchase or increasing their purchase frequency" in your Treasure Data CDP, you can automatically transfer the segment to MAAC through LINE Connector.
Step 2: Utilize Marketing Modules to Enhance Customer Experiences on LINE
Use message templates in MAAC to create broadcasts and send them to prospective customers. Then, use the "Automated Customer Journey" function to set a journey for sending out thank-you notes, post-purchase surveys or rewards. This will boost customer loyalty.
Step 3: Synchronize your Data to Gain a Holistic View of your customers
Track users' interaction data on LINE, such as reading messages, clicking links, fun quizzes, etc, in both MAAC and Treasure Data CDP. Now, your customer data is unified from multiple sources into your Treasure Data CDP, giving you the ability to further design personalized marketing campaigns for your customers.
Other things to consider doing through LINE

Acquisition:
Use the "Member-Get-Member'' function to boost LINE friends in a short period of time.
Engagement:
Use Game Modules like lottery games and coupons to spice up online and offline campaigns. (Note: Companies can customize the visuals for brand images.)
Conversions:
Use AI-driven functions to effortlessly identify prospective buyers and choose optimal sending time to generate conversions continuously.
About Crescendo Lab
Founded in 2017, Crescendo Lab assists enterprises in achieving digital transformation by providing AI-driven and data-first solutions that surround the LINE ecosystem. Crescendo Lab has created the messages analytics platform MAAC, which over 500 companies use across Japan, Taiwan, and Thailand to communicate more accurately and increase conversions.

Additional integration details can be found in Treasure Data's documentation