Which marketing channels contribute the most to conversions?
This Box provides a data-driven, machine learning-based templatized solution for Multi-Touch Attribution (MTA), running on your pageview data stored in Treasure Data.
Unlike traditional rule-based MTA solutions such as first-touch and last-touch model, our template takes an advanced machine learning-based approach to accurately model customer's path to conversion and understand better about how/why marketing touchpoints bring your customer to the goal. Eventually, the insights enable you to effectively and efficiently optimize the marketing campaigns with optimal budget allocation.
The template ultimately generates deeper insights about conversion histories and allows you to build the following dashboard, for example: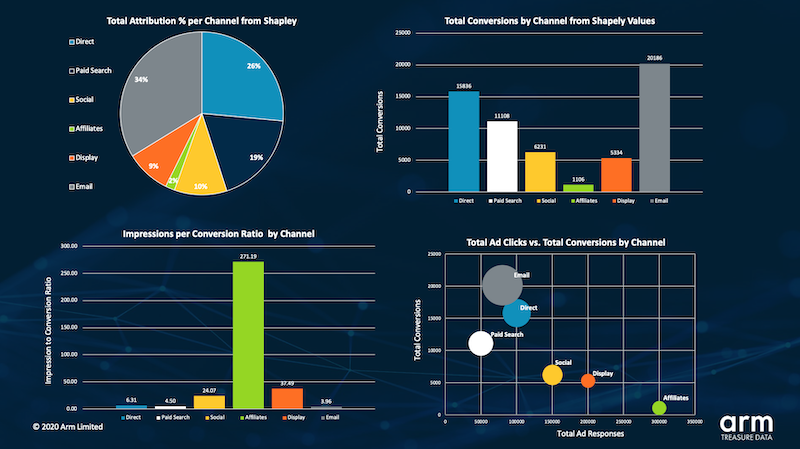 The implementation is based on a state-of-the-art academic paper employing a Deep Learning technique, and one of the key concepts used in the technique is called the Shapley value calculation. The overall performance of this template has been proven on the Treasure Data platform with some of our real datasets.
Input
Assume we have a following touchpoints table that collects user behaviors and conversion events with their sources (i.e., marketing channels):
| | | | |
| --- | --- | --- | --- |
| time | user_id | source | conversion |
| 1596012307 | yl38g61s2x | sfmc | 0 |
| 1596012340 | d4dbvpwcyj | instagram | 0 |
| 1596012427 | egeaf1po46 | facebook | 0 |
| 1596012553 | gls9vyk2de | google | 1 |
| 1596012645 | ps6cc25f24 | instagram | 0 |
| ... | ... | ... | ... |
If you have a pageviews table collected by td-js-sdk, the table can be easily transformed to the required format with some lines of queries. For more information, contact your Customer Success Representative and we will be happy to provide further assistance.
Output
By visualizing the outputs as follows, this Box gives insights into how different channels perform throughout the customer journey to conversion and which ones are more effective as a first-touch vs. last-touch on that journey.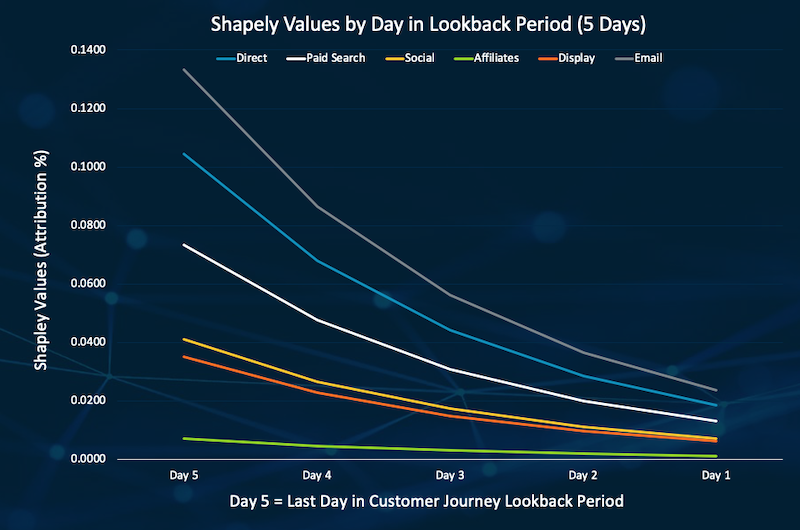 Use Cases
Conversion Analysis
Marketing Budget Optimization
KPI (ROAS/ ROMS) Optimization